Musicians/ Bands! Contact Danny for booking: LSEmusic@cox.net.
PARTIES
People often ask about big parties and reservations. Below is detailed information for your smaller parties less than 20. See the link below for parties from 20-150.
Lightnin' Salvage Enterprises (LSE) is our gift shop, bar, and live music venue. It seats about 60 people and is a self serve atmosphere with no wait staff. You order at the bar and your food is delivered as take out. This is a great place for groups to gather. If you know you are bringing a big group please just email Satch (SatchelsGville@gmail.com) so we can have staff on hand.
While we can always accommodate parties of most sizes, the larger the party the longer the wait could be. If you come on a weeknight we can seat big parties easily. We often have parties of 10-20 in LSE. Coming at 11am on Saturdays is a good time, or before 6 on most nights is usually best. We have plenty of seating for lunch parties in LSE except on Saturdays after 1pm it can get busy. Most of the time parties of 10-20 have no problem finding a place to sit either in our full service dining rooms or in our self serve bar area, or the outdoor seating areas.
We have a greenhouse area that seats 15 with a spillover area under the plane that can seat another 40. This area is often available and can be reserved for large parties in the catering section below.
You can bring in your special dessert at no charge but we ask that you do not bring in your own beverages or outside food.
Catering or big take out orders:
Visit this link please:
Email Gracy for catering orders: SatchelsCatering@gmail.com
Powered by Squarespace
Editing 'Page Content'
After only 10 short years, Lightnin' Salvage had become the ultimate juke joint:
A junk museum, toy store, Florida souvenir shop.
A bar, lounge, and live music venue.
A playground for the kids, people spontaneously dancing, a Lionel train rattling overhead.
Kids running wild without a parent in sight.
Birthday parties and a local hangout.
Bocce ball, an airplane, a treehouse and greenhouse.
Even the first ever NACHO NIGHT, the last day of Alachua County School, and a big party to celebrate Nacho Libre.
There was a night for storytelling and a night for bellydancing. Folk, bluegrass, blues, rock n roll and klezmer music sharing the same stage. Open Mic night. A pinecone contest. The night of a thousand ukeleles. A place that many artists had a part in creating. A 10 1/2 year art project.
I discovered the picture above on Twitter and I don't even know who took it but I bet it was a patron of the Ole' Barn, a bar across the street. It was a Monday evening, December 5th, 2016. We were closed all day but I had been in installing a new upgraded wifi. Home and on the couch I got a call from a food truck owner who had just finished his Monday night bowling game. He said the place was sky high in flames.... "through the roof!"
By the time I arrived at the scene the next picture is the one I took, and this was as close as I was allowed to get.... I wonder if you can imagine my state of mind. This had been my art studio for 10 years, an art installation studio, and more than half of my business...
But back up in time to the Spring of 2006, the previous tenants had just moved out, and I was trying to figure out what to do with the place....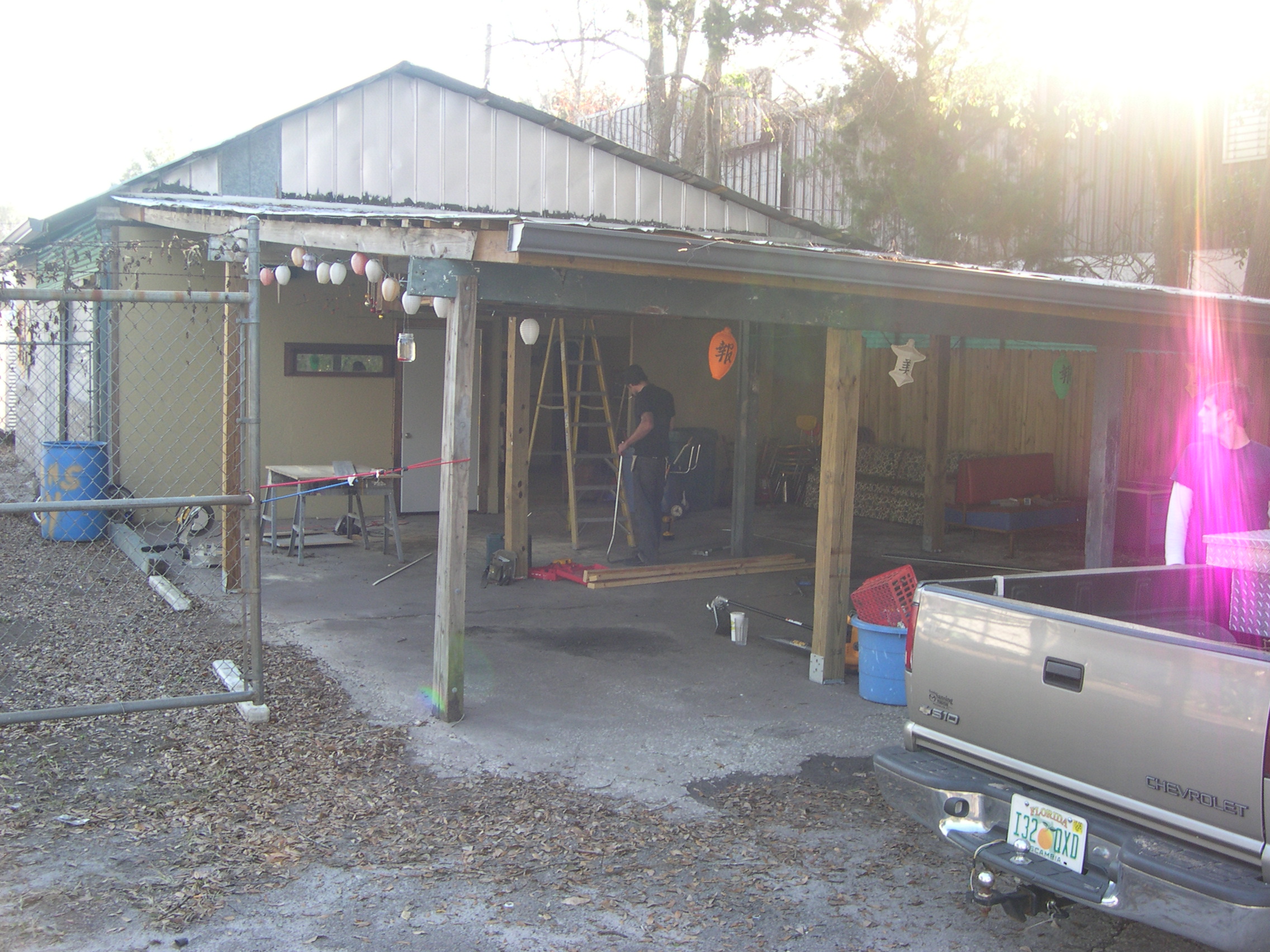 Below are some pictures of the place through the years...
between 2006-2016